WELCOME TO THE OLSG WEBSITE.
We hope you will find it a useful way to keep yourself informed
about parish news and events.
Whether you are an individual or part of a group within the parish and have any items which you think might be worthy of inclusion on the website then please contact
Paul McBride at:
website@olsg.org.uk
We will do our best to accommodate any reasonable request.
6th April 2020
During 'Holy Week' we hope to show some services for you to watch and take part.
This is likely to be in the form of 'Stations of the Cross' for Good Friday
and an abbreviated 'Vigil Service'.
The vigil service is not likely to be available until later on Easter Sunday.
24th March 2020
As a result of the latest government guidelines it has unfortunately been necessary to close the church until further notice.
Please avail yourself of the various mass live streaming options which are shown on the front page of the website.
We do hope to issue a short video message from Father Boyle at the weekend as a means of maintaining some sort of contact with as many parishioners as possible.
If it is at all possible we would like this to be a weekly event and hopefully circumstances will allow this to happen.
19th March 2020
You will by now have heard the news that public Masses will not be celebrated in the Archdiocese of Glasgow for an indefinite period after today, the Feast of St Joseph, due to the corona virus pandemic.
Mass is streamed live, 3 times a day, every day, from St Andrew's Cathedral  should you wish to participate.CLICK HERE to connect.
Other parish live streams are shown HERE on the Archdiocese main page.
Please note that Our Lady and St. George's will also be open 6pm to 7pm for individual participation in the 'Stations of the Cross'
26th January 2017 – Deacon Andrew Presentation
Deacon Andrew returned to Our Lady and St. George's today, albeit briefly, for a mass and presentation in recognition of his five and a half years service in our Parish.
He came along with his wife and daughter Pauline and her boyfriend.
He thanked the Parish for his 'fantastic' time here and outlined some of the many different challenges he has faced at St. Albert's.
A short presentation and buffet was held in the hall and fittingly, Milly Russell presented him with a good luck card on behalf of the children in the Parish.
Hopefully we can persuade him back for the wheel of fortune at this year's fete.

Deacon Andrew Presentation
26th January 2017
Deacon Andrew Presentation
26th January 2017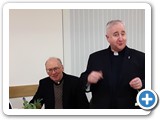 Deacon Andrew Presentation
26th January 2017
lightbox for native galleriesby VisualLightBox.com v6.1

22nd March 2016 – Defibrillator Fund
An automated external defibrillator (AED) is a portable electronic device that automatically diagnoses the life-threatening cardiac arrhythmias of ventricular fibrillation and ventricular tachycardia in a patient, and is able to treat them through defibrillation, the application of electrical therapy which stops the arrhythmia, allowing the heart to re-establish an effective rhythm.

Earlier this year we started a campaign to raise funds in order to install a defibrillator unit in the church.

Although we raised an amazing £1200.00, buying a defibrillator off the shelf which is recognised and supported by the Scottish Ambulance Service and the British Heart Foundation can cost between £900.00 and £1400.00.
Fortunately there are various foundations and charities which help with the purchase of these units and we have been very lucky and grateful to have been supported by the 'Craig Hodgkinson Trust' who have offered us a unit for £650.00.
Ideally we would eventually like to have an additional unit installed in the hall and we are actively seeking additional funding to this end.
We will publish further updates in due course and advise of any training when it has been organised.

2nd November 2015
Keep an eye out for our first 'Table Top Sale' which will be taking place on Saturday 5th December.
Click HERE for more details.

27th September 2015
Your Nearly New Priest Writes:
Thank you for the warm welcome you gave me last weekend. I am greatly encouraged by the support given by Deacon Andrew and by so many of you who take part in the Sunday and weekday celebrations of the Eucharist, the Breaking of Bread, from the youngsters toddling around to the more senior members engaged in quiet reflection and prayer.
The prayers offered for the priests on the move, including Fr McGinley and myself were greatly appreciated.
I am also greatly encouraged by the numbers of those involved in special ministries, or simply giving their time and energies for the glory of God and for the good of the community.
The Gospel last Sunday was apt. Jesus spoke of his own death and resurrection, giving his life for the good of humanity, and the need for his followers to be servants to each other, following his example.
Fr. Joseph Boyle
18th September 2015
Today we extend a very warm welcome to our new parish priest Father Joseph Boyle who has come to us from St. Roch's in Garngad where we know he has spent many happy years and will be sorely missed by his parishioners.
We will do everything we can to make the transition as smooth as  possible and hope that he will have equally rewarding time and many happy and fulfilling years in our parish community of Our Lady and St George.

6th June 2015 – GARDEN FETE
A huge thank you to everyone who helped or contributed in any way to our annual garden fete.
It can't be said often enough that without the help of so many volunteers and supporters, both young and old, the fete just could not take place and the parish is indebted to you.
A special thank you to 'Mr Whiz' ( balloon man) and the others  who had to to brave the elements to run their particular event.
Despite the horrible weather we still managed to attract a fairly good turnout and have so far managed to raise a remarkable £4850.00.
Anybody checked the long range forecast for next year?!!!!
'Click Here' to view some pictures.


15th March 2015
TAKING STOCK – LENTEN EXERCISE
A meeting took place recently to have a conversation regarding ' Music in the Parish'.
It was poorly attended by those in the Parish, the Parish Council and by those supporting this Mnistry.
Christmas Masses and Christian Unity Service
It was decided to issue an evaluation form to gauge response to these services while they are still fresh in people's minds and responses will be carried forward to evaluation and planning in the Autumn and will be considered for next year's planning, keeping in mind that last Christmas' events were part of 'Planning 2014-2015' and were incorporated into the Liturgical Calendar.
Parishioners are constantly invited to attend these meetings which are always open to suggestions from Autumn onwards. Dates are also carried in the Calendar and Bulletins.
The meeting readily acknowledged and thanked all those past and present who are involved in this ministry which is ultimately at the service of God and his people.
The reality is ever changing. We have four organists and a few cantors ( those called to lead and encourage the singing, the emphasis on the people to accompany and sing, hence the hymn books) as well as a few instrumentalists.
We have three sacred masses to cover at weekends. We have a strong choir and whenever they contribute the Liturgy is always enhanced and people appreciate their efforts.
Our weekday liturgies are sometimes enhanced by music on feasts and Solemnities and we are grateful to cantors and organists who are available to help with funeral liturgies on the night before and in the morning.
The funeral Liturgy of the Holy Mother Church is very special and as a last farewell to loved ones it is important that we celebrate fitting worship.
The meeting spoke about young people in the Parish and the talent that abounds in regard to musically gifted instrumentalists,not necessarily cantors. Our young people have shown willingness to be involved when asked. There could be more involvement and we call on our young people to volunteer, even on a rota basis, to become active.
There were concerns raised over criticism of music and Preparation act. The majority of worship offered in the Parish is of a good standard and that is due to those willing to lead and those willing to respond.
It is important to be aware that those who volunteer to be cantors are not paid or salaried as in some other places. They are there to help us join the singing and give our Praise to God. In Christian charity, be aware of this and if you have any queries regarding the music, then approach the Parish Priest.
This evaluation comes from the meeting and is perhaps the beginning of a conversation about Liturgy.
If anyone has any suggestions or would be willing to help carry this forward then please see Father McGinley or Gerry Devlin ( Music Co-ordinator )
The evaluation form will be given out at masses next Sunday 5th Lent – 22nd March.